1960-1965: From ridicule to lasting legacy
View of Vista, California, USA. (Image: Google Street View)
---
Between 1961-1963 George Adamski is said to have made several inexplicable and controversial claims and taken actions that alienated a growing number of his stalwart associates. To date, no satisfactory explanation has been found for his apparent change in attitude towards some of his former positions re e.g. psychic powers, and his long-standing co-workers. Perhaps the answer should be sought in the fact that spiritual growth – individual progress in the evolution of consciousness 🔗 – is at times accompanied by psychological crises. Adamski himself briefly addresses this period in his Cosmic Bulletin of December 1964 (see below). Notwithstanding their dissociation, his former co-workers expressed their conviction that by and large Adamski's contacts and experiences were genuine. Despite these estrangements and controversies he continued to write, publish, and lecture.

---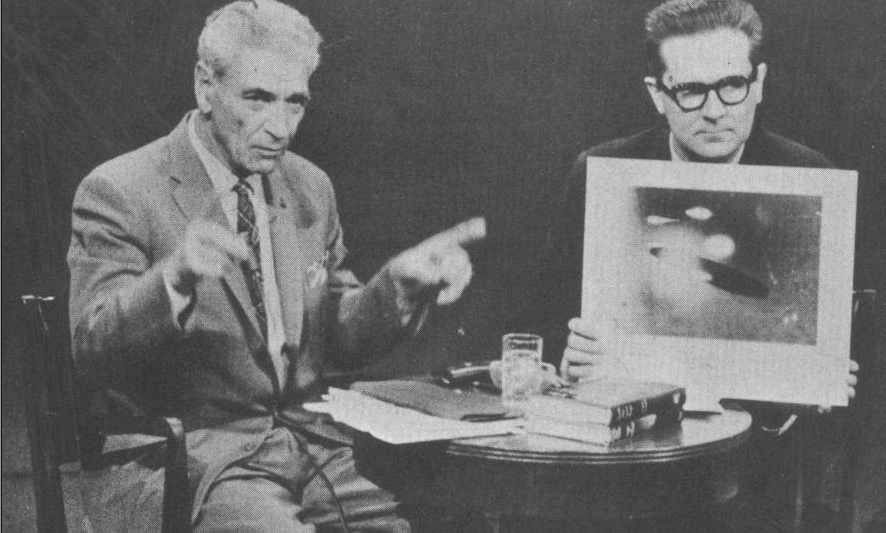 30 April 1960: Long John Nebel (Zimmerman) interviews George Adamski on his TV show. (A fragment can be heard here 🔗.)
---
1960: Invites presidential candidates Richard Nixon (R) and John F. Kennedy (D). Only Kennedy reportedly accepts the invitation.
---
April-May 1961: The property at Palomar Terraces is sold and Adamski moves to Carlsbad with co-worker Alice Wells, in preparation for a move to Mexico.
---
25 May 1961: President Kennedy announces the Apollo space programme 🔗, with the aim of "landing a man on the Moon by the end of this decade and returning him safely to the Earth".
---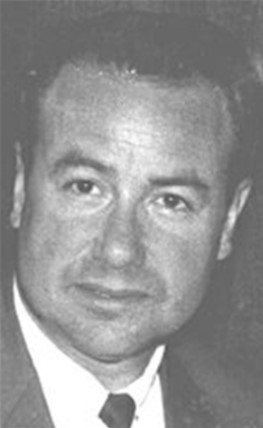 September 1961: Hands over the work for the Get Acquainted Program 🔗 to his co-editor Carol A. Honey, who works as a space research engineer at Hughes Aircraft Co. Despite later falling out with Adamski Mr Honey maintained: "I had been present with Adamski when various representatives of the government or the military were at his residence asking for information. (…) I still back up his original contact claims and was with him on one of them in 1958, in spite of the later incidents that led to my terminating our business relationship in this field of work."
---
1961: Publishes Flying Saucers Farewell.
"… I called it farewell, because I am going to take it easy myself. In fact I'm too old to be running around the world. I like to settle down for a little bit in Mexico and start living there." (At a conference in Belgium, May 1963)
This book signals Adamski's intention to re-focus his efforts on his teachings about life and consciousness. After Adamski's death it is republished as Behind the Flying Saucer Mystery (1967).
Also publishes Cosmic Philosophy, a compilation of teachings from the Space Brothers and his teachings with the Royal Order of Tibet in the 1930s.
---
Circa October 1961 Adamski "had been entrusted with a written invitation for President Kennedy to visit one of the space people's huge motherships at a secret airbase in Desert Hot Springs, California" which he was to take "direct to the White House through a side door … where a man he knew was ready to let him in. Adamski later learned that Kennedy had spent several hours at the airbase after having cancelled an important trip to New York, and that he had had a long talk with the ship's crew…" (Zinsstag & Good, pp.63-64; see also William Sherwood's testimony 🔗, and Grant Cameron's PresidentialUFO files 🔗.)
---
March 1962: After his return from a trip to Mexico, announces plans to find a property in the Guadelajara area, to establish the Science of Life school, which he had been planning since the late 1950s, "for the continuation of the 'Brothers' work."

---
27-30 March 1962: Attends an "interplanetary counsel" on Saturn, which addresses, among other things, the threat of nuclear war on Earth as the standoff between the USA and the Soviet Union over Cuba 🔗 intensifies. In the report that he publishes in June, Adamski writes: "…the present explosions of atomic energy are going in the wrong direction, and if these experiments do not stop, the only results will be a lost civilization… This is even affecting their planets…"
See also: Extraterrestrial life 🔗| Nuclear containment 🔗
Ridiculed by many, some of Adamski's descriptions in the report about his trip 🔗 clearly show this was a deeply spiritual experience for him, which may have unbalanced him for some time.
(Note: For a scientific explanation that supports the possibility that Adamski did go to Saturn, while Carol Honey says he saw GA sitting in his recliner on these dates, see the latest studies in consciousness, e.g. Prof. Ervin Laszlo's 2016 book What is Reality? 🔗)
---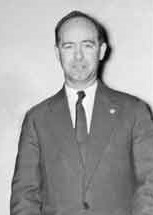 April 1962: Following his trip to the Counsellers meeting on Saturn, Adamski travels to Washington "to deliver a message to an official of our government". Danish co-worker Major Hans C. Petersen (pictured), stationed at the NATO exchange office there, later reveals Adamski had told him in private that the "official" was President Kennedy. Based on her experiences with Adamski, Lou Zinsstag was "inclined to believe him when he told us of (…) secret meetings in (…) important buildings, such as the White House." (Zinsstag & Good, p.63)
In a letter dated 28 February 1963, Adamski says: "The Washington trip was concerned with the Cuba question."
Note: In 1963, based on his own experiences as a participant in the Italian Amicizia Case of mass contact, Consul and Italian co-worker Alberto Perego 🔗 writes: "We must be grateful to them [the space people] for having prevented, until now, nuclear war." (L'aviazione di altri pianeti opera tra noi, p.534)
---
May/June 1962: Some weeks after his Saturn trip Adamski meets with the 'space brothers' again "for a period of intensive training and teaching in one of the space people's 'mobile training schools' " for what will become the Science of Life study course (below). This "was a long ship equipped with the latest developments in pictures and illustrations of the actual workings of the law. (…) Much of this information cannot be released to the public as yet, but will be released to those few who really prove themselves ready to discard the old for the new." (Special Report, Part 2, p.3)
---
November 1962: Long-time co-worker Lucy McGinnis leaves Adamski after 14 years of working with him. Saying she was a witness to his first contact, "I could never denounce that which I know to be true."
---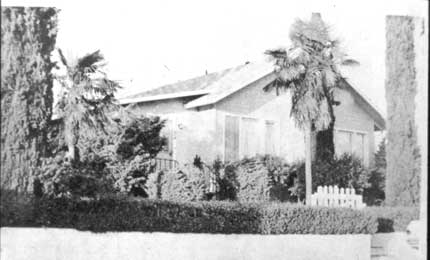 Between December 1962 and January 1963: Moves to 314 Lado de Loma Drive, Vista, CA, where he continues his Sunday meetings with the public, and which will remain his residence until his death.
---
April 1963: President Kennedy, whose administration "was bending over backward to avoid any overt association with the Holy See 🔗", "allegedly visited Adamski late one night at the Willard Hotel, close to the White House." (Good, Alien Base, p.138) "Circumstances indicate that Kennedy had given a message concerning his meetings with the Space People to Adamski to deliver to the Supreme Pontiff, a message handed over to G.A. just a day or so before he left for Europe." (Ronald Caswell 🔗, 'UFO Contact: The Day Before Yesterday', Series Two, Part One)
---
30 April 1963: Arrives in Denmark for another lecture tour of Europe, with talks scheduled in Denmark, Germany, Finland, Belgium, Switzerland, Italy, and the UK. Pictured here with Major Petersen at the SUFOI Congress in Fredericia, Denmark.
(Image: Ole Henningsen)
After being asked to deliver a message to Pope John XXIII 🔗 in Rome, Adamski asks Major Petersen to cancel his trips to Germany and Finland, and travels to Belgium directly.
---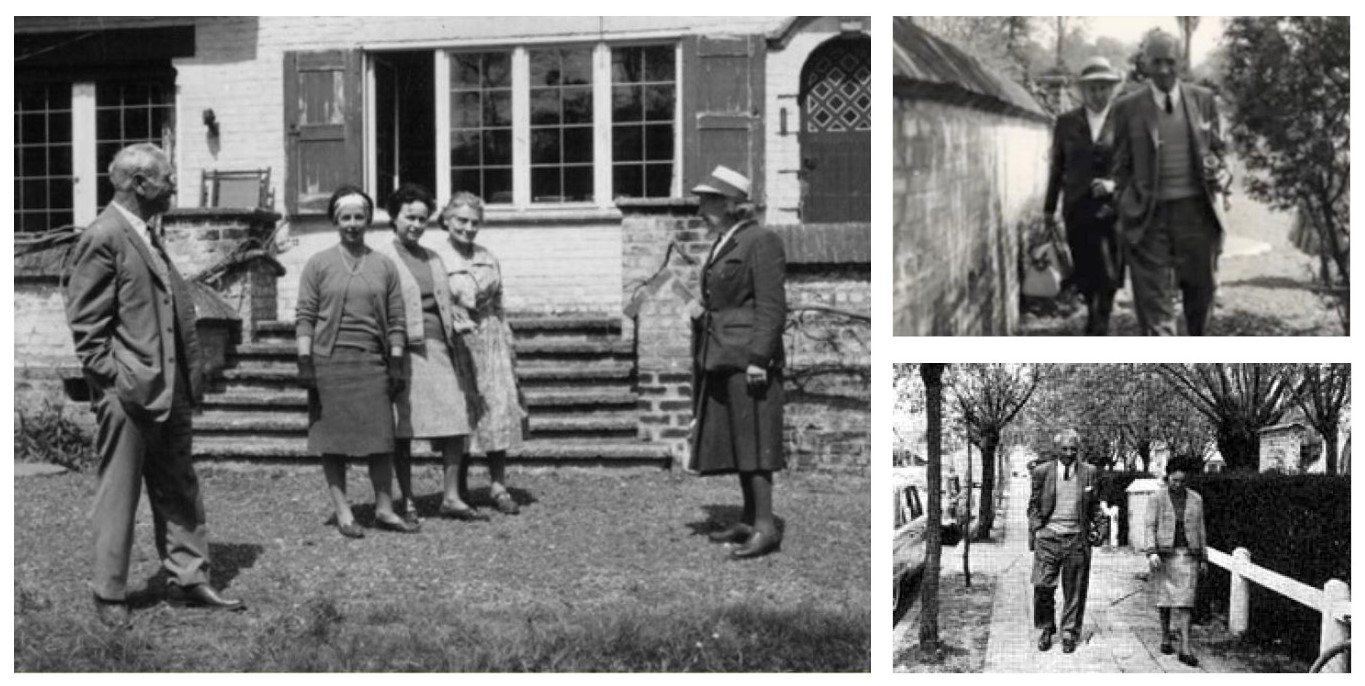 17-22 May 1963*: Lectures and meetings in Antwerp and Brussels, Belgium.
---
23 May*: Belgian co-worker May Morlet and Austrian co-worker Dora Bauer travel with Adamski from Antwerp to Basel, Switzerland, where they meet with Lou Zinsstag.
30 May: May Morlet and Lou Zinsstag accompany Adamski on a trip to Rome, where they are invited to the palazzo of Desmond Leslie's brother Jack.
*Lou Zinsstag and Hans C. Petersen differ on the exact dates.
---
31 May 1963: Private audience with Pope John XXIII who is seriously ill and dies two days later, when Adamski is leaving for the UK.
---
2 June 1963: Leaves Rome for London, where he is received by Desmond Leslie. Pictured here at the airport in Rome with May Morlet, who was flying back to Brussels.
(Image: Marc Hallet)
---
October 1963: Sends out a 'Qualification Questionnaire' to his network contacts for the Science of Life study course.
---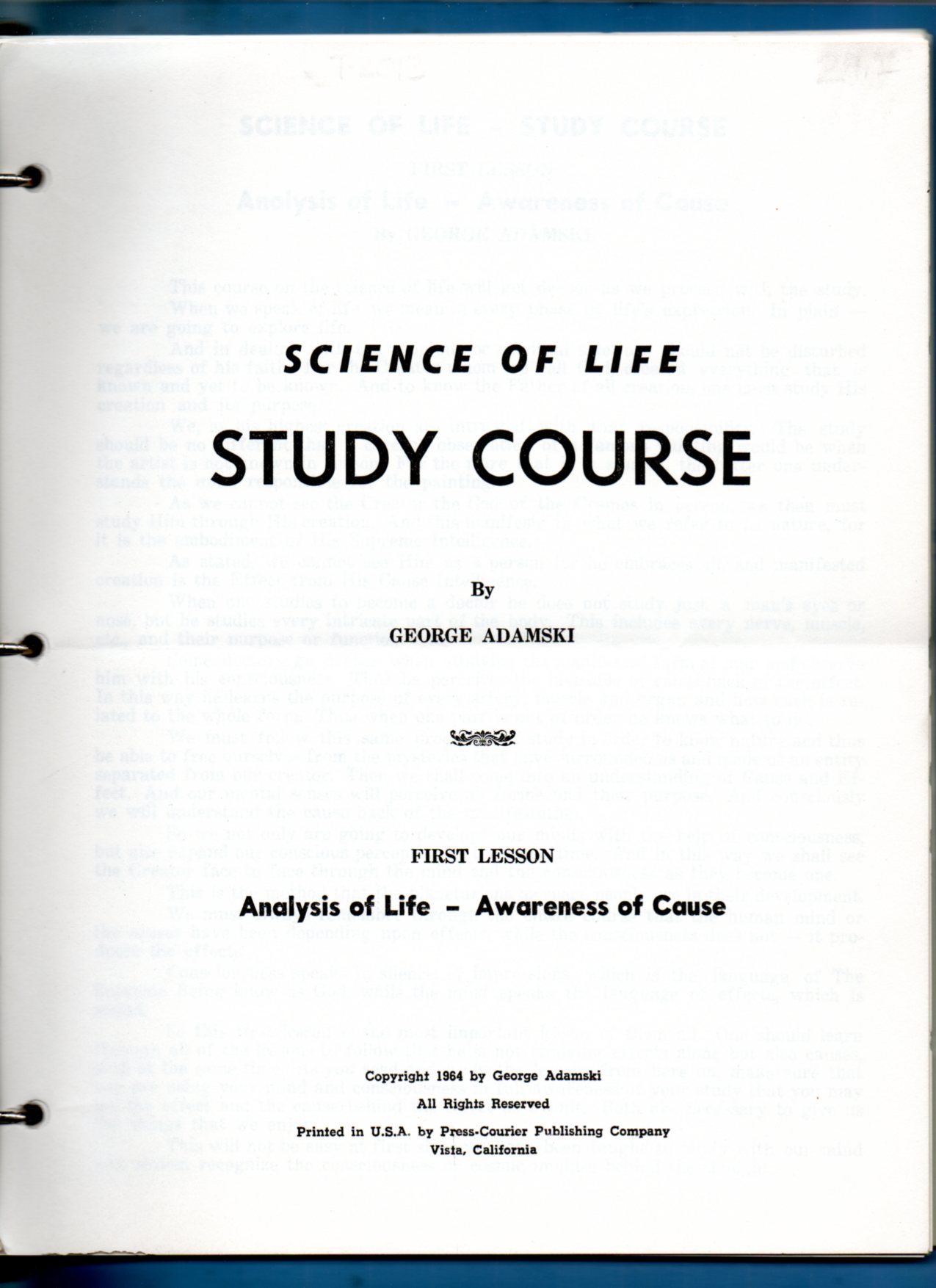 1964: Publishes Science of Life, a study course in 12 lessons. The final lesson is sent out in January 1965.
In February Adamski dissociates himself from Carol Honey; a few months later Lou Zinsstag distances herself from Adamski.
---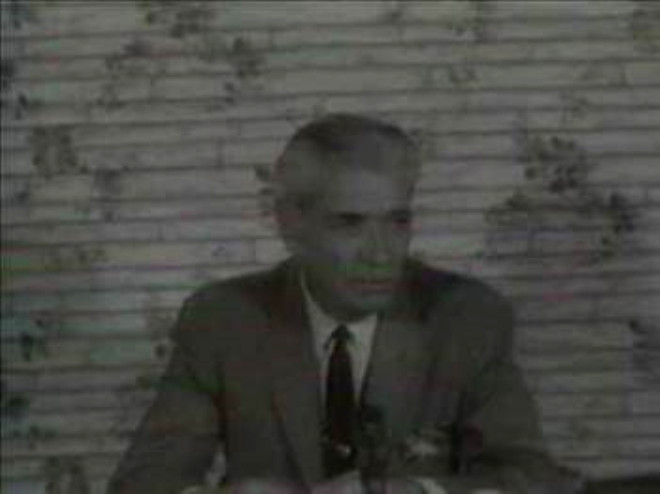 10 September 1964: Start of lecture tour with dates in Wisconsin, Illinois, New York and Washington D.C. Several TV programmes invite Adamski for interviews, e.g. in Green Bay, WI, WTTG Channel 5 in Washington D.C., Channel 13 in Baltimore, Boston and Worcester, MA.
---
December 1964: In his Cosmic Bulletin of this month Adamski refers to the changes he was seen to have gone through since 1961: "In recent years it has been said that I was under an influence of some kind or another and that I have changed, but all progress is a change towards a greater knowledge and a better life. And if I am under some sort of influence I hope that it will never leave me for no greater progress has ever been made than in the last few years."
---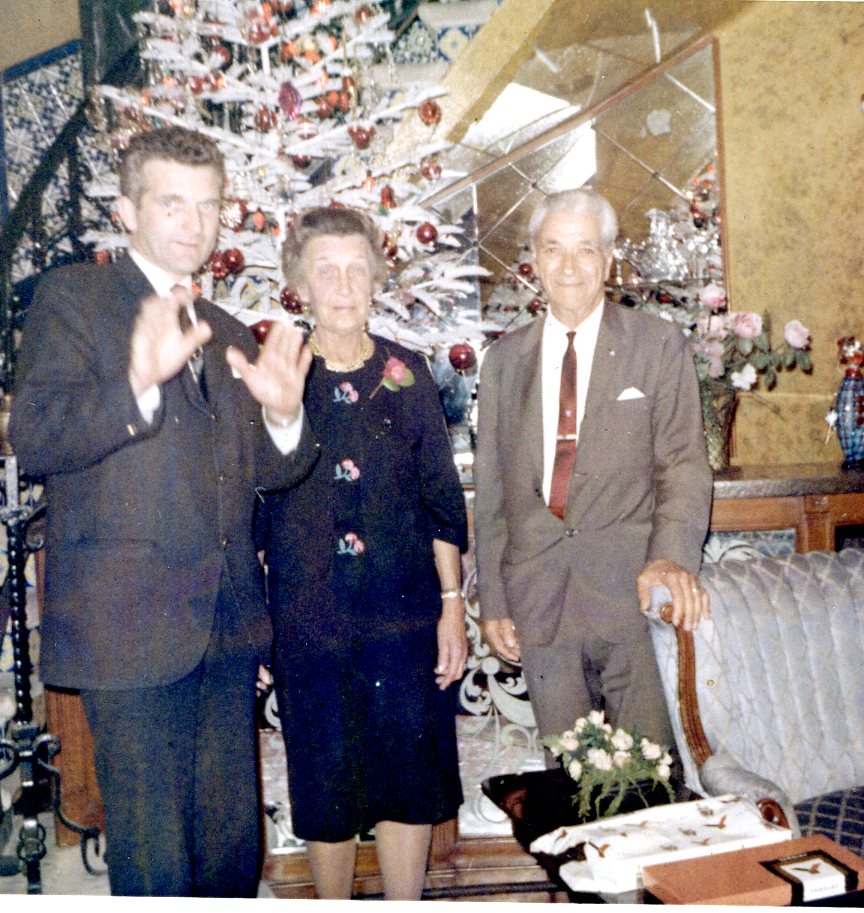 17 December 1964 – January 1965: In Mexico with Ms Alice Wells, where "we will look into the potentials of establishing a school for the study of the Science of Life in Mexico City.
"During that period there will not be any Sunday afternoon discussions, but on the 17th of January they will be resumed." Pictured here during Christmas in Mexico City with Alice Wells, and the eldest son of Maria Christina V. de Rueda, who often organised lectures for him.
(Image: Hans C. Petersen private archive)
---
February 1965: In what will be his last letter to Desmond Leslie, Adamski writes: "Flying Saucers have been seen daily over Washington DC … it looks from here that this might crack or even tear away the door of silence and let the Dove of Truth free, that all people will know about it."
---
26 February 1965: While staying with Nelson and Madeleine Rodeffer in Silver Spring, Maryland, Adamski makes the most convincing film recordings of a flying saucer as it hovered over the premises. (Clip from Michael Hesemann, UFOs: The Contacts – Part 1: The Pioneers of Space, 1996)
Note: The history of how these films were tampered with and wrongly discredited is recounted at length by Rangvald Carlson in 'UFO Contact: The Day Before Yesterday 🔗', Series One, Part Eight. Five of the original frames were enhanced 🔗 by Rene Erik Olsen.
---
18 March 1965: The Democrat & Chronicle of Rochester, NY, publishes an interview with Adamski, noting with a hint of admiration that he is "in town this week on another stop in another lecture tour". John Van Buren, the newspaper's science writer, reports: "Perhaps more than any other man, Adamski has helped to keep the subject of 'flying saucers' alive, much to the dissatisfaction of the U.S. government which apparently would just as soon not talk about the things, publicly at least."
Other stops on this tour of the north-east include Syracuse, Buffalo, Worcester, Lowell, Rhode Island, New York, and Boston, with attendance still high: "We had a full house – 800 on the 22nd, and tonight – we shall see."
---
10 April 1965: Gives his last talk in Detroit, IL, while on his final lecture tour of the north-eastern USA.
---
23 April 1965 (St George's Day): After having returned to the Rodeffers (pictured here in June 1966) in Silver Spring in mid-April, and being in bad health, Adamski is taken to the Washington Sanitarium where he dies of heart failure as a result of respiratory problems at the age of 74.
(Image: H.C. Petersen private archive.)
---
29 April 1965: George Adamski's ashes are interred in Section 43, Grave 295 at Arlington National Cemetery 🔗, Arlington, VA.
In his obituary in Flying Saucer Review Desmond Leslie wrote: "He gave his utmost to the work and the world will never be quite the same place again, richer for his coming, a little poorer for his going."
(Image: Cosme Lantigua)
---
(Sources: Tony Brunt; Ronald Caswell; Timothy Good; Michael Hesemann; Lucy McGinnis; Carol A. Honey; Hans C. Petersen; Lou Zinsstag & Timothy Good)

FAIR USE NOTICE: This page may contain (links to) copyrighted materials the use of which has not been specifically authorized by the copyright owner. The Adamski Case publishes (links to) these materials solely for educational and research purposes, constituting Fair Use in accordance with Title 17 U.S.C Section 107 of the US Copyright Law, and Article 5 of the European Directive 2001/29/EC. Please contact The Adamski Case about any copyright or attribution issues.