George Adamski was born on 17 April 1891 in what is now Poland as the first son of a Polish carpenter and his wife, who later had two more sons and two daughters. When he was around four years old, the family emigrated to the USA and settled in Dunkirk, New York. He left school after 8th grade, but received private tuition and training in Tibet as a teenager. From 1913-1916 Adamski served in the US Army and, from 1918-1919, in the US National Guard. In 1917 he married Mary Shimbersky, who died of cancer in 1954. Adamski first settled in Los Angeles, California, around 1928 where he founded the Royal Order of Tibet in 1932 with which he moved to Laguna Beach in 1934 and taught a philosophy of life which he called Universal Law. He moved to Valley Center near Palomar Mountain in 1940, where he soon became known as a spotter, speaker, and writer about craft and visitors from space. Palomar Mountain remained his operating base until he moved back to the coast, first to Carlsbad and finally to Vista, CA. He died of heart failure on 23 April 1965, while staying with friends in Silver Spring, Maryland.
For many years, episodes in George Adamski's early life were shrouded in mystery, but recent research has brought forward new documentation and archival materials that are combined here to shed further light on what was by all means an extraordinary life. Not only for his experiences and the controversy they aroused, but equally for his determination, and his unforgiving dedication and commitment to the service that he had taken upon himself.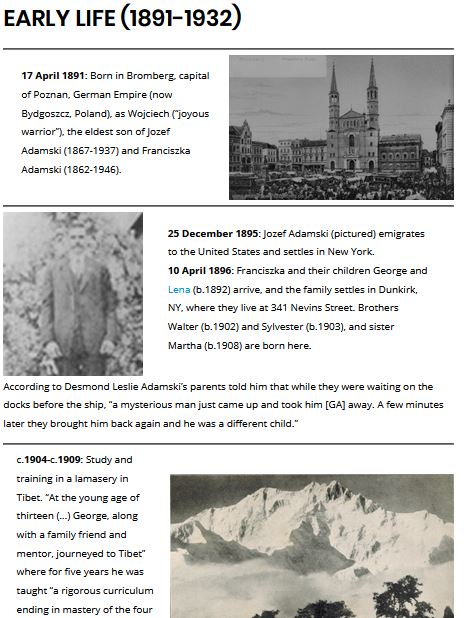 As the timeline in the following pages shows, he worked untiringly his whole life, doing manual labour from a young age, through to his final days as a teacher and lecturer when he continued to write, publish, answer questions, travel, lecture, give interviews, and make new plans to share his information and educate his fellow humans. Knowing that the fees for his talks were just enough to cover his expenses (his Swiss co-worker Lou Zinnstag said "George Adamski was a man who did not relate to money" to the point that she felt sure "he was even reluctant to touch it"), the allegations about his motives are left without basis and instead imply more about the motives or the world view of his detractors.