George Adamski with friends and co-workers at Palomar Gardens Cafe, early 1950s.
(1) Unknown; (2) Charlotte Blodget; (3) George Adamski; (4) Alice K. Wells?; (5) Martha Ulrich?; (6) Lucy McGinnis
---
Without the support of his loyal co-workers and volunteers, George Adamski's mission would have been even harder to accomplish. Featured here are a number of his closest US associates in his efforts through the decades, in approximate chronological order.
---
Lalita (Maud) Johnson (1875-1943), "the heiress of a considerable fortune" from Decatur, Illinois, had moved to California where she became a writer and a teacher of eastern wisdom. She was a follower of Baba Premananda Bharati, who came to the US to spread Krishna Consciousness, and accompanied him on his journey back to India from 1907-1910. In 1933 she established the Order of Loving Service in Laguna Beach and after reading Adamski's first book of teachings, The Invisible Ocean, invited him to speak at the Order's Little White Church. She became a major supporter and bought a property as a "monastery" for Adamski's Royal Order of Tibet. In May 1938 she went to India for good where she lived on a house boat in Srinagar, Kashmir until her death in 1943. Her son Josef Johnson 🔗 (1899-1959) was a friend of Adamski's and worked with Professor Fritz Zwicky, who first hypothesized 'dark matter 🔗', at the Caltech Palomar Observatory.
---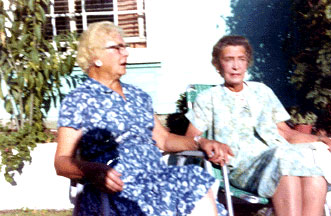 Alice K. Wells (1900-1980) pictured here (right) in September 1965 with Martha Ulrich, another student and supporter since the early days. In the early 1930s Alice Wells had been planning a trip to India to find the Masters of the East, but dropped the idea after hearing Adamski speak in Pasadena in 1934, and she became an active member of the Royal Order of Tibet in 1935. About the Wednesday meeting of 15 January 1936 the Santa Ana Register announces: "Mrs Alice Wells will speak on 'Teachings of the Seven Masters'." She remained loyal to George Adamski until her death.
---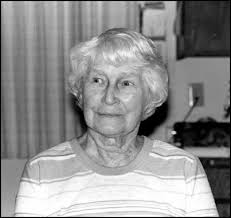 Lucy McGinnis (1901-1982) became a voluntary secretary assisting George Adamski from around 1948, and is said to have been Adamski's editor or ghost writer for his book Pioneers of Space (1949). She handled his correspondence and edited the Cosmic Science bulletin (1957-58). She finally left him in November 1962.
---
Charlotte Blodget, a "wealthy Boston socialite" who lived in the Bahamas, was George Adamski's ghost writer for his book Inside the Space Ships (1955) when she visited him for several weeks in the summer of 1954. Below his dedication on the opening page Adamski wrote: "I wish to express my deep appreciation to Charlotte Blodget for framing my experiences in the written words of this book."
---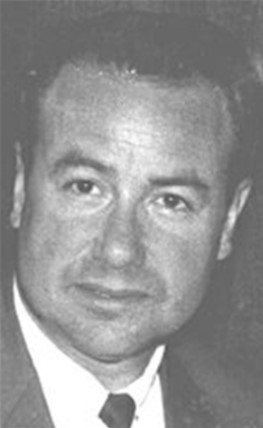 Carol A. Honey (1928-2007) was a research engineer with Hughes Aircraft Co. whose interest in UFOs began after observing a "huge UFO flying behind an airliner". He first visited Adamski at his home in November 1957 and became a close associate, writing the first part of Flying Saucers Farewell, and handling the GAP affairs from September 1961, until Adamski dissociated from him in 1964.
---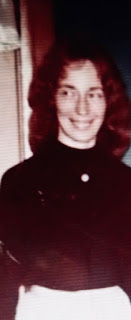 Charlotte Blob (1936-2009), pictured here in Vista in June 1964, became interested in UFOs when she sighted several UFOs while working as a ground observer for the U.S. Air Force in 1952. In 1964 she took over from Alice Wells as Adamski's secretary.
She also features in the 1971 film Rainbow Bridge, in which, at the very end, she addresses a small group of seekers about the Venusians having secretly contacted the US government and offered a free and non-polluting energy system.
---
Alice B. Pomeroy assisted George Adamski and Alice Wells for three years, until Adamski's death, and later formed her own group in Northboro, Massachusetts.
---
Notable associates outside the US:
Australia: Roy Russell
Austria: Dora Bauer
Belgium: May Morlet
Denmark: Major Hans C. Petersen
Germany: Karl L. Veit
Holland: Rey d'Aquila
India: Prof Sisir K. Maitra
Italy: Dr Alberto Perego
Japan: Hachiro Kubota
Mexico: Maria Christina V. de Rueda
New Zealand: Brenda and Henk Hinfelaar
Switzerland: Lou Zinsstag
UK: Desmond Leslie
---
(Sources: Gerard Aartsen, Tony Brunt, Gerald T. Carney, Timothy Good & Lou Zinsstag.)

FAIR USE NOTICE: This page may contain (links to) copyrighted materials the use of which has not been specifically authorized by the copyright owner. The Adamski Case publishes (links to) these materials solely for educational and research purposes, constituting Fair Use in accordance with Title 17 U.S.C Section 107 of the US Copyright Law, and Article 5 of the European Directive 2001/29/EC. Please contact The Adamski Case about any copyright or attribution issues.