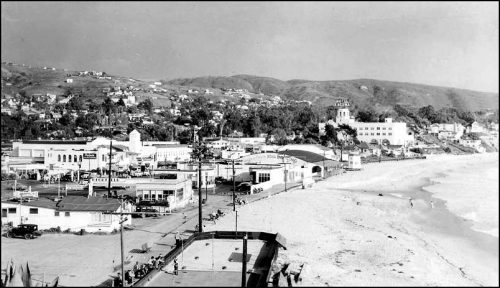 1932-1940: From temple to ranch
View of Laguna Beach, 1930s. (Image: Orange County Archives)
---
April 1933: After becoming acquainted with his work and philosophy through The Invisible Ocean, Mrs Lalita (Maud) Johnson invites Adamski to teach at the Little White Church for the Order of Loving Service which she established earlier that year in Laguna Beach, an artists colony on the California coast.
(Image: gasite.org)
---
November 1933: Mrs Johnson purchases a property for the Royal Order of Tibet in Laguna Beach. While that is being readied, the Royal Order HQ operates from Hotel "Castle" Green in Pasadena (pictured).
---
January 1934: The Royal Order of Tibet opens its 'monastery' – the Temple of Scientific Philosophy – at 758 Manzanita Drive, Laguna Beach, a property in the 'Mediterranean Revival' style with 17 rooms, a lecture hall, and a spacious garden. Meetings are held on Fridays and Sundays.
About Adamski's alleged self-incriminating claims that the Royal Order of Tibet was a front for distilling wine during Prohibition, see His motives (third allegation 🔗). Note: Prohibition ended on 5 December 1933.
---
December 1935: The property is sold to Marguerite H. Weir of Universal Progressive Christianity, of which the Royal Order of Tibet is now a 'fraternity' of about 50 members, with 'closed' as well as public meetings.
---
1936: From January, publishes Universal Jewels of Life, a free monthly newsletter for those attending the meetings. Besides Adamski, talks are also given by Marguerite Weir, Alice Wells, and others.
From May, the Royal Order has a weekly 15-minute slot on local California radio stations KFOX in Long Beach and KMPC in LA.
---
1936: Publishes Wisdom of the Masters of the Far East, a compilation of questions and answers about the spiritual facts of life that provides a clear and concise introduction to the Ageless Wisdom teachings 🔗, reflecting his study in Tibet as a youth.
---
1937: Publishes 'Satan, Man of the Hour', an allegory about mankind's difficulty in overcoming its divisions and strife in the face of our collective problems; and 'The Kingdom of Heaven on Earth 🔗', a tract that emphasizes each individual's responsibility for the human condition.
---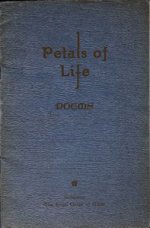 1937: Publishes Petals of Life 🔗, a collection of twelve poems "compiled by Professor G. Adamski" (the title 'Professor' being given to him by his students).
---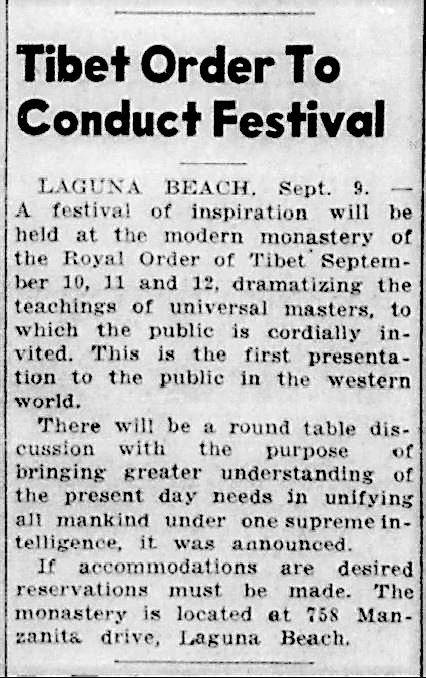 10-12 September 1937: The Royal Order of Tibet organizes a festival dramatizing "the teachings of the universal masters", and a round-table discussion focusing on "the present day needs in unifying all mankind". (See also World transformation 🔗.)


---
April 1938: Before leaving for India for good in May, Mrs Johnson gifts Adamski a 6-inch telescope which is installed "on a specially constructed platform in a garden corner" at the Temple of Scientific Philosophy "to create an interest in the study of astronomy in conjunction with other scientific subjects. In this connection, the telescope will be open to the public on Sunday and Friday nights." (LA Times, 30 April 1938)

October 1938: The Royal Order of Tibet radio broadcasts are discontinued.
---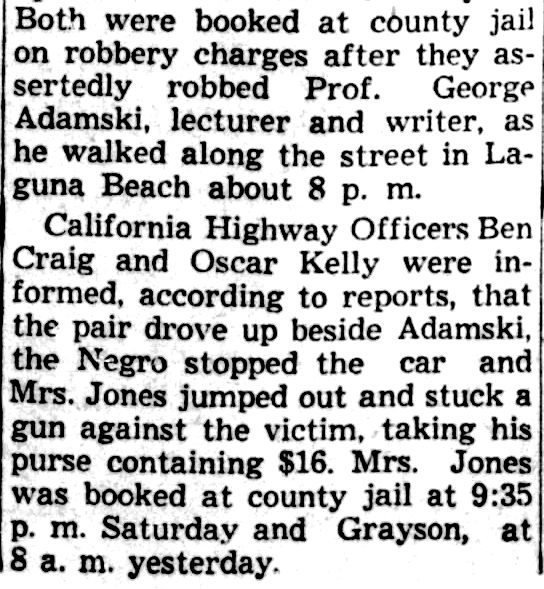 8 July 1939: Robbed at gunpoint, while walking along the street in Laguna Beach around 8pm. (As reported in the Santa Ana Register, 10 July 1939)
---
January 1940: Announces move to Valley Center, CA, in March that year, to set up a spiritual retreat. (Originally, a "dude ranch" was a guest ranch where tourists could experience the nostalgia of Western Frontier days.)
Note: The occupational description of 'economist' in this report seems to recognize Adamski's interest in socio-economic reforms that would later inform much of his teaching (see World transformation 🔗).
---
(Sources: Gerard Aartsen 🔗, GAsite.org, LA Times, Santa Ana Register, Torrance Press.)


FAIR USE NOTICE: This page may contain (links to) copyrighted materials the use of which has not been specifically authorized by the copyright owner. The Adamski Case publishes (links to) these materials solely for educational and research purposes, constituting Fair Use in accordance with Title 17 U.S.C Section 107 of the US Copyright Law, and Article 5 of the European Directive 2001/29/EC. Please contact The Adamski Case about any copyright or attribution issues.