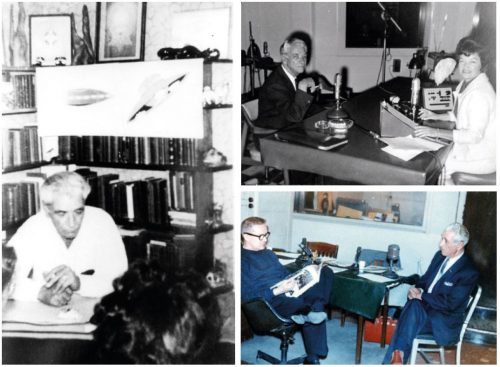 PHILOSOPHY
George Adamski's three main works expounding his philosophy are Cosmic Philosophy, Telepathy, and the Science of Life. These are available online on this website 🔗 (English and Japanese).
---
TALKS
Audio recording of Adamski's talk at George van Tassel's Spacecraft Convention at Giant Rock, California, Sunday 3 April 1955: link.
Audio recording of a lecture given 8 November 1955, broadcast by Dr. A.G. Dittmar: link.
Audio recording of a lecture for the Michigan Flying Saucer Convention, 1957: link.
Audio recording of the lecture at Caxton Hall, London, UK, 28 April 1959 (incorrectly dated September 1958), that was originally scheduled for the Royal Albert Hall, with a much larger capacity: link.
Audio recordings of seven talks by George Adamski from the 1960s: link.
Audio recording of some of Adamski's answers to questions after a talk in Antwerp, Belgium, May 1963 (as transcribed in Report from Europe 🔗, pp.156-170; probably part of the 'Assembly for the Young' meeting): Part 1 | Part 2 .
Audio recording of Adamski's last talk, in Detroit, Michigan, April 1965: Part 1 | Part 2 .
---
WRITINGS
A complete overview of George Adamski's publications: link.
---
QUESTIONS AND ANSWERS (Cosmic Science)
The first 95 of 100 Q&As published in the Cosmic Science bulletin series (1957-58) were reprinted in the international edition of the Japanese GAP newsletter UFO Contactee Nos. 3 – 13. These are available in PDF format here 🔗.
---
INTERVIEWS
Interview with Dr. A. G. Dittmar, 17 February 1953: link.
Audio fragment of interview on the Art Linkletter show, 1953: link.
Interview with Desmond Leslie, 1955: link.
Conversation with Project Blue Book author Captain Edward J. Ruppelt, at the Giant Rock Convention, 1955: link.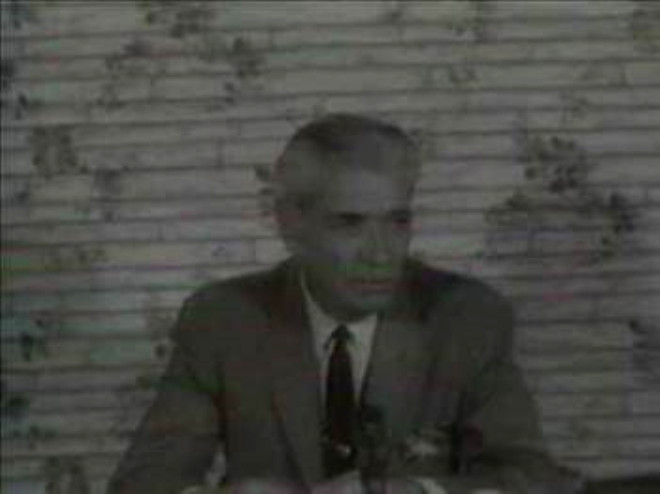 Audio of interview on KTTV-TV, 1958: link.
Audio of interview on the Long John Nebel TV show, 30 April 1960: link.
Panel discussion on 'Community Dialog', with President of Wesley Theological Seminary Norman L. Trott, chairman of the Physics Department at American University Dr Mark Harrison, astronomer at the US Naval Observatory Dr D.L. Block, and George Adamski, moderated by Harry Clarkson, 1964 (WTTG Channel 5, Washington DC): link.
Interview with Bob Neil, 1962: link.
---
DOCUMENTARY
Historical film footage of Adamski, and interviews with Desmond Leslie and some of Adamski's close associates appear in the 1996 film documentary by German director Michael Hesemann, UFOs: The Contacts – Part 1: The Pioneers of Space (re-released in 2006 as UFO Secret: Alien Contacts – The Best Evidence 🔗).

---
FILM
A 4-minute compilation of Adamski's films of flying saucers, recorded at different times in various locations, followed by a 30-minute programme titled 'George Adamski and the Moon', hosted by Penny Harper: link.
---
UFO CONTACT – IGAP JOURNAL
PDFs of all issues of UFO Contact – IGAP Journal, published between 1966 and 1968 by Hans C. Petersen (Denmark) and Ronald Caswell (UK) are available on Søren Hansen's website: link.
---
GET ACQUAINTED PROGRAM – Remaining chapters
IGAP Denmark: link.
IGAP Germany: link.
IGAP Japan (Cosmic Consciousness): link.
---
SCOUT SHIP
Several of George Adamski's contested photos were enhanced by Rene Erik Olsen:
– First contact on 20 November 1952: link.
– Frames from the February 1965 'Rodeffer' film: link.
Olsen's analysis of the close-ups of the scout ship taken 13 December 1953 over Palomar Gardens is available in a PDF: link.
3D Renderings by Kazuto Ohshima of the Venusian scout ship photographed by Adamski, and approximations of its interior: link.
---
FBI FILE ON GEORGE ADAMSKI
This motley collection of suspicions from "concerned citizens" and official denials can now be browsed online:
---
GEORGE ADAMSKI FOUNDATION LLC
The website of George Adamski Foundation LLC: link.
---

FAIR USE NOTICE: This page may contain (links to) copyrighted materials the use of which has not been specifically authorized by the copyright owner. The Adamski Case publishes (links to) these materials solely for educational and research purposes, constituting Fair Use in accordance with Title 17 U.S.C Section 107 of the US Copyright Law, and Article 5 of the European Directive 2001/29/EC. Please contact The Adamski Case about any copyright or attribution issues.